Site Supervisor
1- Oversee operations.
2- Study the drawings and execute the work.
3- Ensure that work is done safely.
4- Responsibility for supervising the whole site.
5- Preparing the site, carefully planning the work to be done.
6- Monitor progress, oversee the delivery of materials.
7- Monitor progress, oversee the delivery of materials.
8- Supervising the laborers.
9- Monitoring the work.
10- Keep in close contact with members of their site team.
Site Engineer
The role of a construction site engineer depends on the type of work involved and the experience of the site engineer in a construction project.
1- Setting out the works.
2- Liaising with the project planning engineer.
3- Calculating the quantity of material.
4- Checking materials and work in progress.
5- Observance of safety requirements.
6- Resolving technical issues.
7- Quality control.
8- Liaising with the company or project purchasing department.
9- Measurement and valuation.
10- Providing data in respect of variation orders.
11- Preparing record drawings, technical reports, site diary.
12- Tracking up the material wastage.
13- Supervising and counseling junior.
14- Job review of subordinate staff.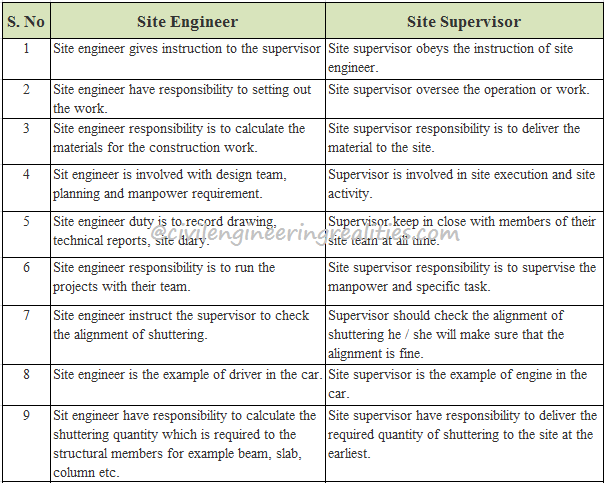 Click Here To See Main Differences Between Architect And Civil Engineer's